PUBG MOBILE India Announcement
Dear Fans,
To comply with the interim order of the Ministry of Electronics and Information Technology dated September 2, 2020, Tencent Games will terminate all service and access for users in India to PUBG MOBILE Nordic Map: Livik and PUBG MOBILE Lite (together, "PUBG Mobile") on October 30, 2020. The rights to publish PUBG MOBILE in India will be returned to the owner of the PUBG intellectual property.
Protecting user data has always been a top priority and we have always complied with applicable data protection laws and regulations in India. All users' gameplay information is processed in a transparent manner as disclosed in our privacy policy.
We deeply regret this outcome, and sincerely thank you for your support and love for PUBG MOBILE in India.
PUBG Mobile रोयाले पास सीज़न 16 को 15 नवंबर को समाप्त होने के बाद रिलीज़ किया गया है। PUBG मोबाइल इंडिया द्वारा PUBG Corp. द्वारा भारतीय बाजार के लिए जारी किए गए नए संस्करण के रूप में इसकी घोषणा की गई है। हालांकि वैश्विक संस्करण अभी भी Tencent के स्वामित्व में है, PUBG कॉर्प ने भारत में प्रतिबंध के बाद लोकप्रिय लड़ाई रॉयले गेम के वितरण की बागडोर अपने हाथों में ले ली है और पिछले हफ्ते गेम की भविष्य की योजनाओं का खुलासा किया है।
The apocalypse never looked so good! 😎

Get in-game and check out the newest Metro Royale themed Royale Pass now 🔗 https://t.co/969l8xLtDU pic.twitter.com/jBaq67tNEx

— PUBG MOBILE (@PUBGMOBILE) November 17, 2020
🔥 Royale Pass 16 is here on @PUBGmobile! 🔥

You can also play as 3 different Metro Exodus characters as you attempt the all-new escape mode, thanks to the @MetroVideoGame collaboration. pic.twitter.com/QlmBvNZx78

— App Store (@AppStore) November 17, 2020

PUBG Mobile's latest update brings Metro Royale theme to the Royale Pass Season 16 after it was released earlier in November. The developers already announced a partnership with the Metro video game series with the version 1.1 update going live. With the new update, the Royale Pass also gets Metro Exodus themed features and events. The PUBG Mobile Elite Pass costs 600 UC and the Elite Pass Plus costs 1800 UC.
PUBG Mobile Season 16 update: Recap of all the rewards
As stated earlier, the PUBG Mobile Season 16 Royale Pass has begun, and its theme is 'Metro Royale.' Players can obtain a wide variety of rewards, including outfits, skins, and costumes.
Here are some of the RP rewards, which consist of the outfits as well:
RP 1 - Anna Outfit B or Artyom Outfit and Metal Medley – DP28
RP 20 - Angry Chicken Helmet
Tier rewards
With the start of the season, the players' ranks have been reset, and season-end rewards distributed. Users can get a variety of items for climbing up the tiers, and the following are all the tier rewards in PUBG Mobile Season 16:
Gold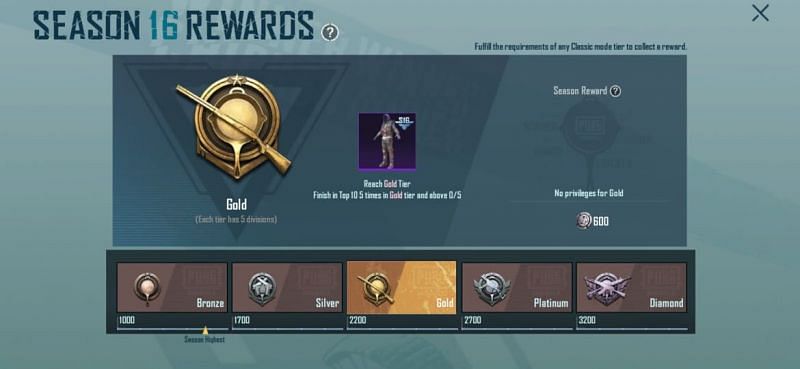 The official PLAYERUNKNOWN'S BATTLEGROUNDS designed exclusively for mobile. Play free anywhere, anytime. PUBG MOBILE delivers the most intense free-to-play multiplayer action on mobile. Drop in, gear up, and compete. Survive epic 100-player classic battles, payload mode and fast-paced 4v4 team deathmatch and zombie modes. Survival is key and the last one standing wins. When duty calls, fire at will!
FREE ON MOBILE - Powered by the Unreal Engine 4. Play console quality gaming on the go. Delivers jaw-dropping HD graphics and 3D sound. Featuring customizable mobile controls, training modes, and voice chat. Experience the most smooth control and realistic ballistics, weapon behavior on mobile.
MASSIVE BATTLE MAPS - From Erangel to Miramar, Vikendi to Sanhok, compete on these enormous and detailed battlegrounds varying in size, terrain, day/night cycles and dynamic weather – from urban city spaces to frozen tundra, to dense jungles, master each battleground's secrets to create your own strategic approach to win.
DEPTH AND VARIETY – From the 100-player classic mode, the exhilarating payload mode to the lightning-fast Arcade and 4v4 Team Deathmatch modes, as well as the intense Zombie modes. There is something for everyone! There is something for everyone. Play Solo, Duo, and in 4-player Squads. Fire your weapon to your heart's content! Be a lone wolf soldier or play with a Clan and answer the duty calls when help is needed! Offers FPS (First-Person Shooter) and TPS (Third-Person Shooter) play, lots of vehicles for all the different terrains in the game and an arsenal of realistic weapons. Find your perfect ride and pieces to cruise towards the final circle!
ALWAYS GROWING - Daily events & challenges, and monthly updates delivering new gameplay features and modes that keep PUBG MOBILE always growing and expanding. Our powerful and serious anti-cheating mechanisms ensure a fair and balanced gaming environment where everyone plays by the rules.
* Requires a stable internet connection.
* PUBG MOBILE recommended system requirements: Android 5.1.1 or above and at least 2 GB memory. For other devices can try out PUBG MOBILE LITE
Follow us:
Facebook: http://www.facebook.com/PUBGMOBILE
Twitter: https://twitter.com/PUBGMobile
Reddit: https://www.reddit.com/r/PUBGMobile/
Discord:https://discord.gg/pubgm
Contact our customer service at PUBGMOBILE_CS@tencentgames.com if you have any questions
▬▬▬▬▬▬▬▬▬▬▬▬▬▬▬▬▬▬▬▬ If any Photos/Videos/Article/Blog/Content has an issue with this upload, please contact us and we will remove it immediately. Contact E-Mail :lawtantra@gmail.com